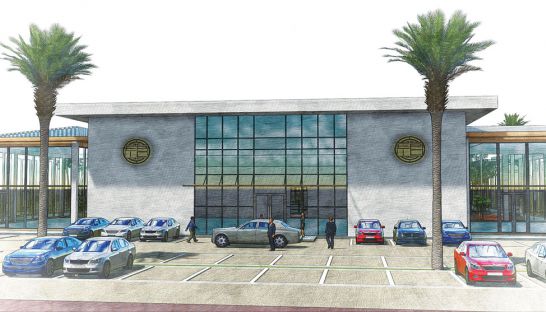 A high-end food, beverage and entertainment precinct loosely modelled after Singapore's popular nightlife destination Clarke Quay is set to make its mark on Phnom Penh with the hopes of putting it on the tourist map.
The multi-million dollar complex is one of the projects being developed in the massive Phnom Penh City Center (PPCC), a sprawling mixed-use development that has sprung up in the former Boeung Kak lake, and which is branding itself as Phnom Penh's next and only central business district.
Eden Garden, when completed, will be a 21,560 square-metre retail, entertainment and dining outlet that its investor's – British Khmer Engineering (B.K.E) Construction Group – director Faz Ghotbi says will emerge as a big draw card for locals and tourists seeking a swanky place to hang out.
"We are targeting a mix of locals, expats and tourists," he told Post Property. "When tourists come to Cambodia, we want to make this place a Cambodian icon that they want to come and see."
Ghotbi and his brother are the men behind the Phnom Penh-based nightclub Epic, and with many other projects in Cambodia, Ghotbi said the pair saw an opportunity to create and invest in a new kind of development which had not been done before. "We got this idea from Clarke Quay in Singapore," he said.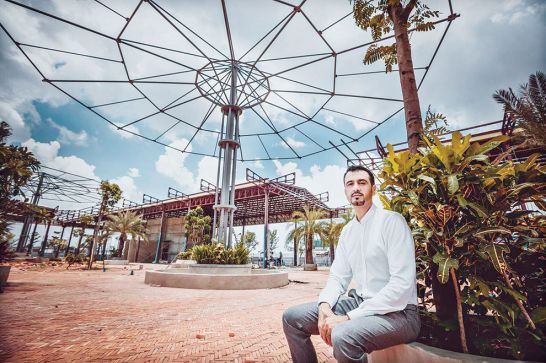 "I've been in Cambodia a long time and we can see that the middle class is growing. We saw that there was a market for this type of development and we proposed the vision to PPCC."
PPCC, which is being developed by Shukaku Inc., were receptive to the idea and leased the land to B.K.E Group to develop Eden Garden, in what Ghotbi said was a "good compromise".
"This opportunity would not exist anywhere else in Phnom Penh," Ghotbi said of creating Eden Garden in the PPCC. "Usually the land owners want to rent out every centimetre of their land, but we received magnificent cooperation from PPCC." With Eden Garden set to open its doors to the public by the end of the year, Ghotbi said the complex would soon be ready for tenants to start moving in to undertake fitting and interior design work.
He said the tenant mix at Eden Garden would be targeted towards the mass market and would encompass a range of outlets, from ice-creamery shops, cafeterias, restaurants and bars. While the second Epic nightclub will be housed in Eden Garden, Ghotbi said the precinct would also be family-friendly. "There will be a playground for the kids," he said, adding that there would be something for everyone.
"If you feel like you want go out for a coffee, you can come here. If you feel like you want to go out in the night time you can come here and if you want to take your kids out you can come here. It's a place for everyone to hang out."
To date, 70 percent of tenant space has been snapped up but Ghotbi is confident that Eden Garden will reach capacity by the time it launches. "Until now, we have approached the clients that we want. It hasn't been open to the public for lease," he said, adding that all tenants are under a long-term, 10-year lease. "If we opened today, according to the feedback from market, this 30 percent would be occupied by the end of the week."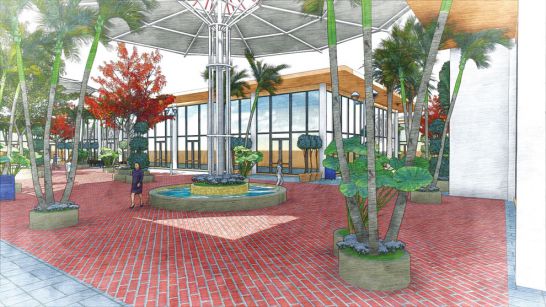 Within the PPCC complex, award-winning villa project Residence 90 is under the contractor supervision of Urban Architecture Co. Ltd. Manuelito Golez, the design manager for Urban Architecture, said Eden Garden would bring something fresh and exciting to the capital's dining and entertainment sphere. "I think it is well known that there are not enough places to hang out and have fun in Phnom Penh among both locals and expats," he said.  "From what I heard, Epic 2, [Singapore's famous] Geylang frog porridge, and some small bars have already signed lease contracts with Eden Garden." Golez is of the belief that Eden Garden will be of interest to tourists on the basis that there is a lack of varied tourist attractions in Phnom Penh. "Eden's umbrella-shaped tall structures, which are similar to Clarke Quay in Singapore, would be quite a good attraction," he said. With more than 300 free parking bays, Golez also said the open spaces designed by Eden would be a break away from local culture and conventional practice. "The open spaces, seating areas, sidewalks and greenery are definitely a warm welcome as these are severely lacking in Phnom Penh," he said. Speaking about the motivation behind designing and constructing Eden Garden, Ghotbi conceded the venture was not particularly profitable from a commercial standpoint. "From the money point of view, this is secondary to us," he said. "Our aim is to do something unique and creative. Nothing is more enjoyable for me personally than to see people having a good time." Credited by: