Phnom Penh City Center (PPCC) Chief Executive Officer, Michelle Lau participated in a panel discussion on the future of Phnom Penh along with four other leading industry players. The panel discussion was held on Thursday, September 22, 2016 at the Sofitel Hotel in Phnom Penh, and was moderated by Post Property's Editor in Chief Julius Thiemann.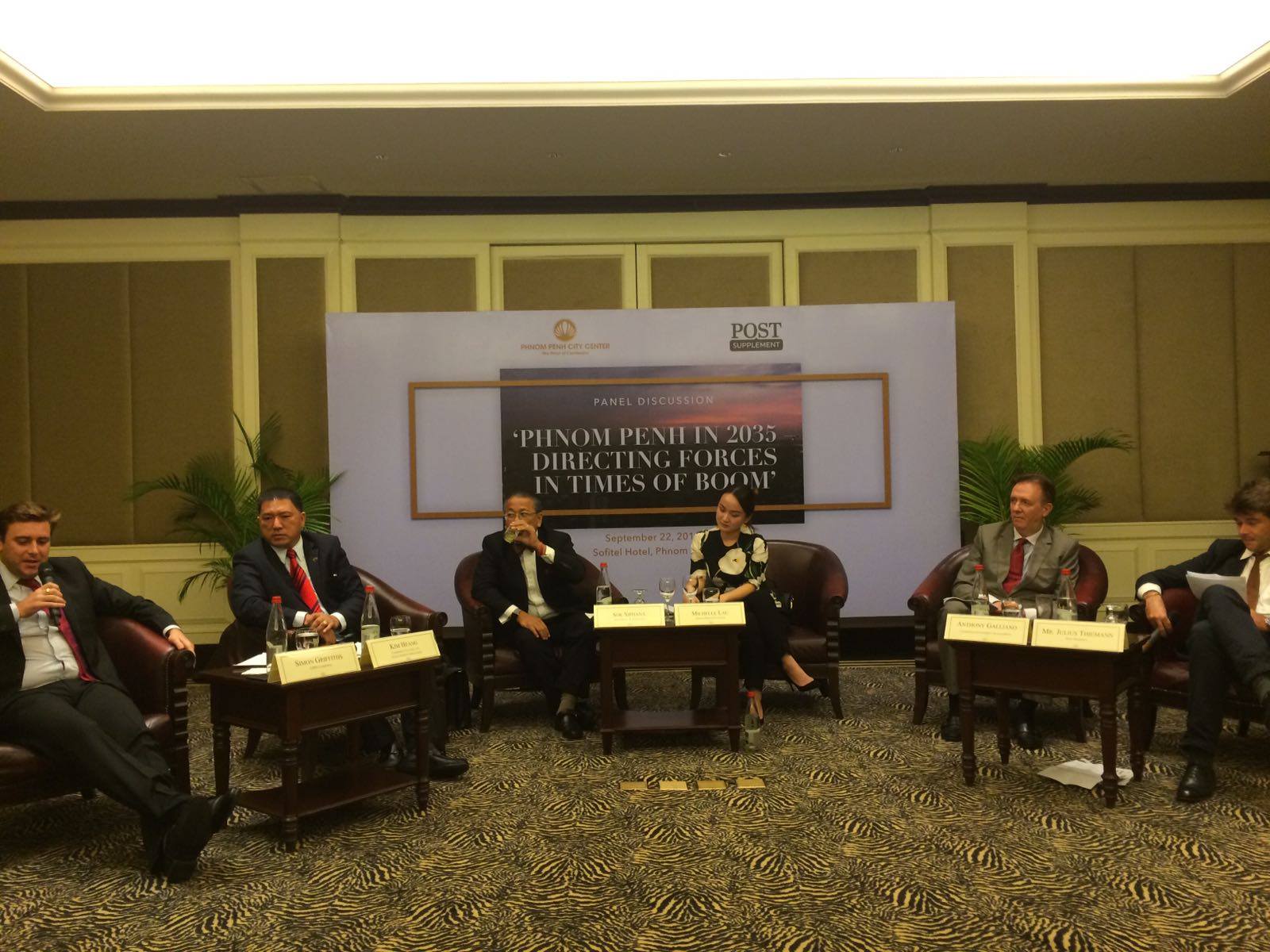 PHNOM PENH, 22 September 2016 – Under the title 'Phnom Penh in 2035 – Directing Forces in Times of Boom', the panel discussion brought together five leading industry stakeholders to discuss the challenges and opportunities triggered by Phnom Penh's real estate boom and rapid urban expansion. Panelists shared their views on the real estate industry and explored ways to meet the demands of Cambodia's capital through innovative solutions and concerted urban planning.
Along with Michelle Lau, Anthony Galliano, Chief Executive Officer of Cambodian Investment Management and chairman of the Eurocham Cambodia Tax Committee, Simon Griffiths, Senior Associate Director at CBRE Cambodia, Kim Heang, president of the Cambodian Valuers and Estate Agents Association (CVEA), and Dr. Sok Siphana practicing attorney, managing partner of SokSiphana&associates and advisor of the Royal Government of Cambodia, also took part in the event.
Addressing the Infrastructure Shortfall through Private Investment.
Moderator Julius Thiemann first underlined that the construction and real estate sectors were the locomotives of the Cambodian economy, making up the largest share of GDP growth. 'Fuelled by vast streams of Foreign Direct Investments (FDI), the two sectors even outpaced garment industry and agriculture – two traditional drivers of Cambodia's growth – for the first time last year', Post Property's Editor in Chief added.
'To sustain Cambodia's strong economic growth, we need to invest more in high-quality urban infrastructure, yet such large scale investments have not been fully initiated. With the Phnom Penh City Center, we plan to improve the city's connectivity, accessibility and livability particularly in the western part of modern Phnom Penh and help position our capital city as an integrated hub for growth and innovation,' Michelle Lau noted.
"The Most Exciting Time in Real Estate in Cambodia since the 1950s and 1960s"
Adopting a macro perspective, Dr. Sok Siphana similarly insisted on the importance of regional integration and highlighted the key roles of infrastructure investment and urban planning in boosting the country's competitiveness in the ASEAN region.
The fast pace of real estate development in Phnom Penh 'has upgraded the quality and choice of available properties in a once antiquated Phnom Penh real estate market', Anthony Galliano said.
Simon Griffiths even dubbed the actual period as 'without doubt the most exciting time in real estate, design, architecture and the built environment in Cambodia since the 1950s and 1960s when Vann Molyvann and a generation of Cambodian architects began transforming the face of the Kingdom of Cambodia.'
In his concluding remarks, Post Property's Julius Thiemann noted that 'Phnom Penh in 2035 [would] be a city with several clusters of growth' modelled on the PPCC project, and set to accommodate for an increase in urban population.